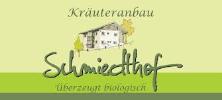 Schmiedthof
Rural topic(s): Herbs and health in rural areas
City: St. Andrä
Country: Italy
Web site: http://www.schmiedthof.com
On the sunny slopes of Mount Plose, at an altitude of 1400 m, the family grows from 60 to 80 different types of aromatic and medicinal herbs. At the time of their right ripeness they collect flowers and leaves by hand and we dry them with particular care.
With these herbs they make their fine products: herbal teas, aromatic salts, cooking aromas, syrups, body creams, scented pillows, herbs for the sauna and more.
They sell their products directly in different markets in South Tyrol.
Scale of intervention : Local
Keywords: wwoofing (voluntary work in farms), family farming, medicinal and aromatic plants, local food processing, direct selling, farmer's market, local supply chain, short food chain, conservation and management of natural resources, organic farming, higher added-value products
Places: Italy
Actors: farmer, farm, farmer-harvester
Methods: job creation