Discovering rural Ukaine, 2016

In 2016 Forum Synergies organised together with Rostyslav Kos in partnership with NGO "Karpatske kolo" a Life Shop in Ukraine.
Details available on this page
Rostyslav is engaged in the International Charitable Foundation of Maidan, currenty supporting refugees from the war zone, hospitals, and providing soldiers with medicines and food. Read mor in the News section where you can also find details in case you want to donate to this foundation.
New in the resource center
Places to be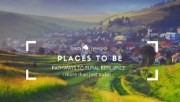 "Places to be" wants to put a spotlight on inspiring initiatives, people and places worth visiting.
The idea started writing our travelbook "Rural Europe on the Move" - a travel guide to transitions. Dive into these pathways to rural resilience here .