[EXP] Mas de Noguera : an example for diversification of activities in a Mediterranean mid mountain region
How a local initiative became a source of inspiration for rural development and a reference for sustainable resource management in the Valencia region.
Rural topic(s): (Agri)-tourism and rural heritage, Renewable energy and eco-housing, Agroecology and agroforestry, Places to be (work in progress)
Type: Success story
Date of writing: February 20, 2009
Author(s) of this page: MG
Organization(s): Mas de Noguera
Summary: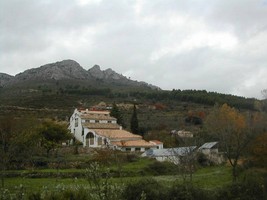 Mas de Noguera is an agrotourism cooperative created in 1982, in the inner land of Valencia region. It develops organic farming and breeding, environmental education activities for pupils and rural development projects. It focuses - among other topics - on sustainable management of natural resources and on on rural heritage protection (local breeds, intangible heritage. After more than 30 years bringing on the scene organic farming, rurality, new settlers etc., Mas de Noguera has become a reference for a lot of rural stakeholders in the region.
Text:
Regional background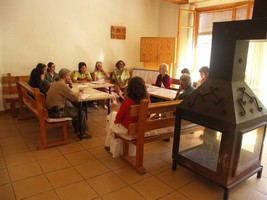 Mas de Noguera is located about fifty km from the Mediterranean coast, in the interior part of the Comunidad Valenciana, in a mid mountainous region (500-1 000 m) of the Castellón province. Rural exodus, which started in Spain in the 60ies, caused severe depopulation in the interior of the province as well as desertification. Abandoning the rural area and agricultural activities has entailed a deterioration of resource and landscape management, of which the fires of the 90s are only a symptom. In fact, regional development of the Castellon province has been focussed on the coastal region (mass tourism, citrus fruit monoculture, ceramics industry) and neglected the countryside, where agriculture is mainly a part time activity. « In this context of decreasing rurality, the three Herrero brothers - Marcelino, Roberto and Rosa Maria- decided to settle down in their native region, close to Caudiel, once they had finished their studies, whereas their parents wished they would make a career, escaping thus hard rural life. In 1982, they rented a deserted mas and about twenty hectares of land. Their aims: promote again rural jobs, farmers' in the first place, while proposing training and awareness activities around environment and sociocultural heritage of the area. Proving that making a living with small farming (masia) is easier now than it used to be and can be a driving for local and regional development. Mas de Noguera was born.The different activities emerged quickly, even if the development and organization of the Mas followed the evolution of the basic group. For instance the cooperative has been created only in 1989 and the inn built in 1992. The Mas and the surrounding land have been bought little by little."(1).
Actors
In 2008, Mas de Noguera celebrates its 25th anniversary. The initiative has been carried by a cooperative structure of 7 members, before being restructured in 2005. Currently three interlinked organisations allow to manage numerous activities integrated in the project of MAS DE NOGUERA:
NOGUERA A.D.R. is a cooperative which runs the agricultural activities (organic farming) and which is the owner of the installations

SERURAL is an associated labour cooperative (7 members) created in 2006 which aims at running services, regarding the hostel as well as regarding other activities held at the installation, like environmental education, trainings etc. ….

C.R.I.E. is an association founded in 1995 with the support of Mas de Noguera and to which other organisations are adherent (Farmers union, federation of cooperatives, etc….). Having been responsible for Europe Direct in the last years, the association now focuses its activities on running and coordinating rural development projects, mainly on the territory of the Valencia Community, in partnership with local actors.
Activities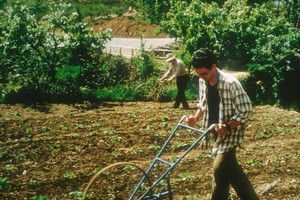 The broad variety of activities offered by MAS DE NOGUERA to its visitors is based on its own rural, environmental and natural resources, its installations and its staff. Diversification is aimed at, as as source of richness and stability, but also in order to achieve a certain self-sufficiency and to close the various circles, as several fields of action are interacting with each other. The settlement include an hostel of 60 beds, rooms for activities and meetings, a kitchen and canteen, a bread oven, a cheese processing units, stables and chicken houses, a greenhouse …… The agricultural activities are run on 102 ha (half of which are owned) and include almond trees (31 ha), cereals, fodder and protein plants (23 ha), vegetable gardens (2ha, irrigated) and the rest in pastures and heath. Five cows, 120 sheep, 25 goats and a hundred bee colonies constitute the livestock of the Mas. The use and promotion of these resources in a perspective of sustainability is defined in the following way: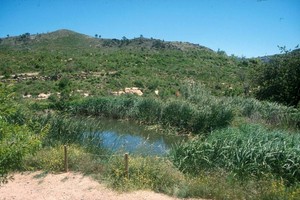 Producing renewable energies: generating electricity with photovoltaic systems and wind energy (with an accumulator, as the Mas is not part of the energy networks), hot water with heaters fuelled with wood and wood granules and solar heating, construction of the hostel making use of passive energy capture.

Waste management: differentiated waste recovery and composting, water purification in lagunas

Organic farming: the Mas de Noguera was one of the pioneers with regard to the organic production and promotion of organic farming. Vegetables, almonds, cereals and fodder plants as well as the egg production are certified organic. The cows, sheep and ducks are fed with organic feed, but are not certified. While the first aim of the farming activities is food production, the vegetable garden and the animals are also used for environmental trainings. And since 1999, several research projects have been organised, aiming to investigate into farming systems which can combine environmental protection, use of traditional varieties and autochthonous races and the current demand of foodstuffs.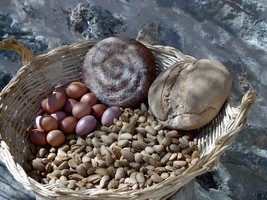 Promoting local resources, especially for food: two sources feed the Mas and are used for human and animal nutrition and for irrigation (of the vegetable garden). Agricultural production is firstly used for the self-sufficiency of the Mas and its visitors: vegetables, meat and processed products such as honey, marmalades, milk products (cheese, yoghurt), bread and cakes are produced and consumed on the spot. The surplus is sold to visitors (in the farm shop) and to local cooperatives (almonds). The products which are not produced on the farm are bought locally (olive oil) or from regional organic farms (fruits, vegetables in winter etc.)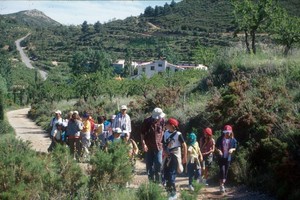 Environmental awareness raising, training, centre for demonstration: Environmental education has always been a priority aim of Mas de Noguera which defines it as a « educational process in order to achieve values and behaviour which aim at developing critical consciousness and participation of persons, so that they are able to find solutions for maintaining the environment and improve the quality of life ». All resources of the Mas are used to increase young people's sensitivity with regard to food and nutrition, biodiversity, energy, recycling, heritage etc…. Trainings in surrounding schools, pedagogic itineraries and weekly school visits at the Mas (organised from March until September) contribute to achieve this aim. The training courses offered by Mas – theoretical classes followed by practical workshops – cover all activities developed on the spot: from organic farming to renewable energies, alongside bee-keeping, rural development through diversification or artisanal food processing … Organised on the demand, these training may also be part of a "lifelong learning" context. The Mas also traditionally welcomes students and trainees, mainly regarding its activities in organic farming and husbandry.

Agro tourism: in order to create additional revenues and to keep the hostel occupied on weekends, agro tourism has been developed and allows reaching a more adult public and families, which may also participate in training activities or discoveries.

Rural development projects: be it directly or via CRIE – which has been based during ten years in the office of Mas de Noguera – various activities linked to rural development have been held: workshops or thematic days (on organic farming, ICT, agricultural policy), promotion and coordination of rural development projects (Savia Rural : attracting new in habitants to rural areas, Agrocultur : developing tourist offers linked to farming activities and rural heritage, organic school gardens, the Ruralia newsletter etc….) These activities have been undertaken in close cooperation with different organisations of the Valencia community (universities, farmers unions, Local Action Groups, organic farming associations, rural initiatives….. ) and at national level (Plataforma Rural, Urdimbred)
Main results / Lessons learnt by the experience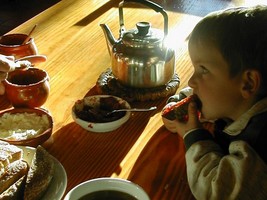 In 2008, Mas de Noguera was offering a living to 10 people throughout the year, with up to 20 workers during the peak of summer activities. On the environmental level, an internal evaluation of the activities of Mas has allowed to modify certain habits or management criteria in order to allow for an increased sustainability (procurement management, …). On the local level, the initial scepticism with regard to a project often considered as "hippy" has turned into a certain respect after 25 years of existence, partly due to the cheerful relations that Mas has endeavoured to maintain with the local authorities. However, territorial integration remains the weak point of the Mas, which has received much larger recognition from outside its region. This problem persists despite the fact that Mas has always given priority to local workers when creating new jobs. However, Mas de Noguera has definitely become a point of reference for sustainable resource management and a source of inspiration for sustainable rural development in the Valencia Community; many people have stayed in its premises in order to learn, to exchange or to get inspired by its (practical) philosophy before starting their own initiative, enterprise or association.
Challenges / Perspectives
While the Mas originally was a pioneer in launching public reflections on European policies, rural development models, innovative activities, ICT…., this role has moved slightly in the background, while the focus was shifted towards the intrinsic activities of the Centre. Even if the animation of rural areas and the setting up of new initiatives are still ongoing, the reform of the cooperative has implied a new division of tasks and changed the rhythm of our activities. Our objective is however to play again a more active role in the promotion of sustainable rural development and rural-urban relations. Within Forum Synergies, the Mas would like to continue the thematic exchanges linked to its activities, while stressing its specific interest to promote and to be involved in the Farmers' Ecology project - in which the Mas has been actively participating from the start.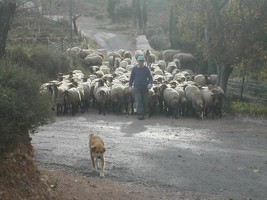 Notes:
Source:
Interview : Marcelino Herrero on 8 october 2008
Website: www.masdenoguera.coop
Forum Synergies' Report of visits (1997)
Contact:
Marcelino Herrero,
Mas de Noguera
Informations:
Scale of intervention : Local
Keywords: renewable energy, diversification of economic activities, organic farming, Information / Education for sustainable development, conservation and management of natural resources, local breed, cultural heritage, Farmers Ecological Knowledge, rural depopulation, agritourism, reed-bed sewage, solar energy, gardening
Places: Spain
Actors: cooperative, farm
Methods: training/capacity-building, raising awareness, programme/project management