RURAL EUROPE IN ACTION
Rural Europe in Action, is a book we're writing at Forum Synergies with the support of ARC2020. Taking stories of rural action from all over Europe as a starting point, the book will serve as a guide to good policy for rural areas.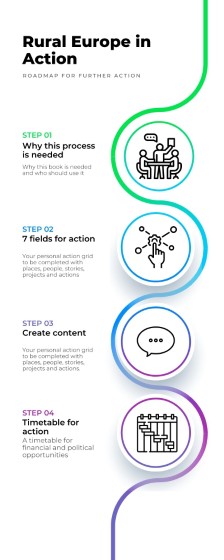 With this Rural Action project we wish to gather the energy present in civil society and in administrations going well beyond wishful thinking or visioning of a better European Rural Life and Policies. At a moment when the reform of the Common Agriculture Policy takes shape there is still much to change in rural development. We believe that you are taking action in that sense and therefore invite you to contribute to "Rural Europe in Action" .
We are not producing another vision, road map, hand book, declaration or manifesto for rural Europe. There are already plenty. Most of them are well done. But many of these stop at what could or should be. It is indeed difficult to recommend better practice and better policies at the same time. We try doing so by starting from a limited number of core themes which we want to highlight because we consider them key for the rapid change we need. We are currently collecting actions under each of the themes from both civil society actors and willing administrations from which we will draw the policy guide.
DIARIES FROM THE FUTURE
Currently we are collecting "diaries from the future". Storytelling format of how rural regions could develop.
You can read the first trailors here: