Chestnut Virtual Tour / Albanian Alps Alliance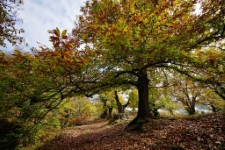 "Albanian Alps Alliance (Scholarship host organisation)'', within the project "Digi-Guide: classic trails in modern communication", supported by the program fund "Prespa Ohrid Nature Trust - PONT'', is pleased to invite you to its activity that will conduct virtually in the Reçi Chestnut Forest, entitled "Digi-Guide on World Mountain Day - Chestnut Virtual tour'', on behalf of International Mountain Day.
• Title: Chestnut Virtual Tour - Albanian Alps Alliance
• Date: Dec 11, 2022
• Time: 02:00 PM, Tirana GMT+1
• Participation: Virtually (guide on the terrain)
• Trail location: Reçi Chestnut Forest, Malësi e Madhe, Albania
• ZOOM registration link
The virtual tour, under the leadership of a professional guide, who, through audio-visual tools, will offer you an exciting experience of the trail we have chosen to implement this ideology for the first time. The guide will be present on the ground and for 1 hour, will broadcast LIVE scenes of the vital sphere of the area, commenting & explaining them in English. On the other hand, the entire audience will have the opportunity to follow with curiosity in their geographical comfort from around the world, the movements with their stories of the beautiful village of Reçi and comment / ask in real-time any thought.
Your presence is an added value during the steps of sustainable development of the biodiversity of the Albanian and world mountains.
The project staff is always present and ready to help you with any information and request you may have.
Looking forward to meeting you virtually!