Lesachtal valley, a journey to authenticity in the Austrian Alps
Rural topic(s): Places to be (work in progress), (Agri)-tourism and rural heritage
Type: Narrative story
Date of writing: August 31, 2021
Text: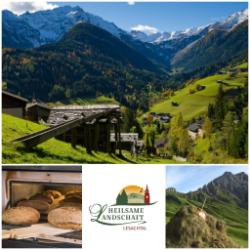 § A few words on Lesachtal, Carinthia
'From the corn field to the Lesachtaler bread' – that's one of the events you can book in the Slow Food Alpe Adria Travel region to which the Lesachtal belongs. Maria Luggau with its old watermill still in place is a perfect place to experience the whole process from planting wheat to baking bread.
The Gailtal and Lesachtal valleys in Carinthia have been named the world's first Slow Food Travel Destination by Slow Food International. A journey here leads into the valleys to the people and flavours and their handed-down knowledge and traditional crafts.
Discover slowness and see good, clean food being produced – including baking bread, producing cheese, brewing beer, making butter and many more traditional crafts.
Track down the roots of good flavour and learn all about the exquisite Carinthian Slow Food cuisine during workshops, on cookery and baking classes or at the cosy guesthouses
♪What kind of experience can you have there…
Visiting Lesachtal you can make rich experiences in the following fields of activities:
food production

traditional agricultural practices

herbal knowledge
You can visit the place just as a visitor, book an activity or enjoy the place thanks to its agrotourism offer.
☼ Travel information & Location
Lesachtal is located in the South-West of Austria. It is a high mountain valley in the South-West of Austria. It sits between 600 and 1400m above sea level, a wild stretch of a canyoncut by the Gail river.
In case you are interested in activities related to food production, traditional agriculture or herbal knowledge the best season to come here is from May to October.
For any kind of sportive activities in a natural sourrounding you may come all over the year.
☺ Contact
Languages spoken: DE, IT, EN
Informations:
Scale of intervention : Regional
Keywords: agritourism, sustainable tourism, rural tourisme, health-enhancing physical activity (HEPA), local food systems, safeguard of knowledge, traditional knowledge, traditional products
Places: Austria
Actors: farm, inhabitants, producer's association, producer
Methods: non formal learning, field trip