ERSG 2017 - Karditsa (GR)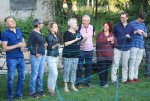 EUROPEAN RURAL SUSTAINABILITY GATHERING 2017 - Social economy, cooperatives and grassroots initiatives in rural GREECE
The European Rural Sustainability Gathering - ERSG 2017 took place in Karditsa (region of Thessaly, Greece), from 17-21 May 2017.
It was co-organised with Karditsa Development Agency, in cooperation with Euracademy, Iliosporoi, Peliti and other local and national initiatives
Besides the opportunity to discover how rural Greece has been facing the crisis, various topics were discussed: agroecology, social links in rural areas, trust, democracy, new farming systems, knowledge transfer, indigeneous species, resilience in times of crisis, cooperation system etc., in an atmosphere of conviviality and friendship.
Proceedings are now available!
All ERSG 2017 videos and participants' interviews are available here.
Presentations given during the Market of Initiatives
this information will also be included in our resource center
Other documents related to the gathering:
To have an overview on the concept of this new ecosystem of cooperatives and social enterprises in Thessalie, watch the video: "Developing Social Economy in Karditsa: A Socio-economic Ecosystem"