Philosophy of work

Creating a vision is often not the easiest task. But it is an essential one because from that vision we create our future.
Forum Synergies is:
Border crossing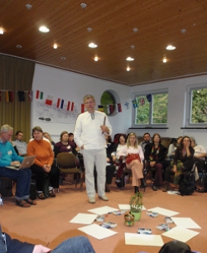 Forum Synergies is about crossing physical and mental borders. We offer space for people who wish to re-connect what seems to be falling apart : farming with nature, heritage and innovation, food and health, civil society and political decision-making.
Discovering a sense of place
We offer local workshops on a specific theme, including field trips to visit success stories and innovative projects. We encourage people to strengthen the European dimension while getting involved in decision-making where they live.
Carrying a spirit of Innovation
For us, sustainable development is a process of continuous change, building upon local initiatives, promoting the careful use of land and local resources, mobilising the knowledge and ambitions of local communities with a spirit of innovation for a better life.
Promoting civic dialogue
We support participative democracy in local initiatives and we offer space and guidance for dialogue with politicians. We organise gatherings, workshops and conferences which build bridges between rural stakeholders from the local to the European level.
Initiating cooperation and partnership
We have co-initiated a number of European networks working on rural development and farm policies, including PREPARE (Partnership for Rural Europe) working in EU accession and neighbourhood countries, and ARC2020 (Agricultural and Rural Convention) which gathers a broad alliance of European stakeholders pressing for a genuine paradigm change in policies for agriculture and rural development.