Mission

Linking people creates synergies and synergies are our vivid potential.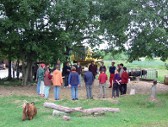 Our mission is to enable the exchange of experiences, to promote synergies and to support a constructive dialogue between stakeholders, all over Europe from local to European level.
We see our main task in animating, supervising and moderating the process of mutual exchange.
We offer support in linking experiences and coordinating thematic exchanges.
We capitalise the lessons learned by transforming them into messages to the public and by creating the potential for individual and collective solutions.
We want to contribute to a lively European countryside based on the principles of sustainability and work towards better European policies.
These core activities form a spirit about understanding what practical sustainability means in reality. It is this experience from which we derive our project ideas and messages, discover partners and allies and keep the network alive.