Scholarship Programme HOW IT WORKS

Scholarships for the Youth
* REGISTRATION CLOSED *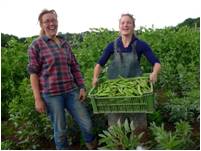 Through our trainee exchange programme we offer young people the possibility to spend some relevant time in a place of their choice in order to discover and learn from the experiences and practices of people & organisations dedicated to sustainable local & rural development. At the same time we are looking for people or organisations rich in experiences who are ready to host a trainee!
Hosts and trainees are invited to make use of the scholarship programme!
Hosts and trainees will be invited also to participate in the European Rural Parliament to share the scholarship experience and for hosts it will be a possibility to promote their actions to interested public
Get involved! Read more about the goals, the "how to" and the benefits:
The Scholarship Programme - ENTER QUICKLY
The Scholarship Programme - GET MORE INFORMATION
Guidelines for the TRAINEE
Guidelines for the HOST
In order to take part in this programme both host and trainee have to register online:
and provide some application documents as explained in the guidelines
Becoming concrete:
Interested hosts/ trainees should send an email to Simone Matouch (DE, EN); Forum Synergies: info (a) forum-synergies.eu in order to exchange data
In order to start the scholarship you should provide a workplan
You should also provide a financial plan by using this online form:
form for HOSTS
form for TRAINEES
This information will be the basis for a contract to be signed by Forum Snygeries, the host and the trainee. Look here for a Model CONTRACT
Look here for Guidelines for REPORTING
For any questions related to reimbursement please directly contact Simone Matouch at info[@]forum-synergies.eu. For bringing in your invoices please use the REIMBURSEMENT FORM. Reimbursement will be within 2 weeks after the apporval of the reports
Portfolio of CONTACTS
Find your host!
For trainees who look for a place/ organisation to go to: visit the
Portfolio of HOSTS.
Find a trainee!
For hosts who actively want to make contact with a potential trainee: visit the
Portfolio of TRAINEES.
Your contact persons for any questions
The Scholarship Programme is operated by Forum Synergies in cooperation with the Latvian Rural Forum.
Your contact persons for any questions:
Simone Matouch (DE, EN); Forum Synergies: info (a) forum-synergies.eu
Katrina Idu (EN, FR); Latvian Rural Forum: Katrina.idu (a) gmail.com
Scholarship experiences

Host: NATURSCHATZ * Kräutermanufaktur, AT
Trainee: Fabian Baier, Bachelor in Agricultural Sciences, AT
Duration: 31.7.2014 - 26.8.2014
Scholarship experiences: A report about working in a remote valley in Lesachtal, AT
"A teaspoon of commitment and a pinch of believe in old traditions and techniques are just a few out of many ingredients which make the Lesachtal to one of the most sustainable places I've been to."
To read the full report clicke here
{{}}