Youth Scholarships

Scholarships for the Youth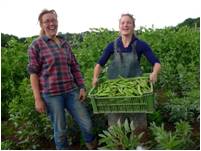 Through our trainee exchange programme we offer young people the possibility to spend some relevant time in a place of their choice in order to discover and learn from the experiences and practices of people & organisations dedicated to sustainable local & rural development. At the same time we are looking for people or organisations rich in experiences who are ready to host a trainee!
Hosts and trainees are invited to make use of the scholarship programme!
In order to take part in this programme both host and trainee have to register online:
Registration form host;
Registration form trainee and provide some application documents as explained in the guidelines:
Guidelines for the Scholarship Programme
Your contact person for any questions:
Simone Matouch: info (@) forum-synergies.eu
Scholarship 2014

Host: Natur- & Kräuterwerkstatt Lesachtal, AT
Trainee: Fabian Baier, Bachelor in Agricultural Sciences, AT
Duration: 31.7.2014 - 26.8.2014
Scholarship experiences: A report about working in a remote valley in Lesachtal, AT
"A teaspoon of commitment and a pinch of believe in old traditions and techniques are just a few out of many ingredients which make the Lesachtal to one of the most sustainable places I've been to."
To read the full report clicke here
{{}}