Focus on

We have launched our book "Rural Europe on the move - a travel guide to transitions"!
Dive into 25 years of experiences in sustainable rural development in Europe and explore pathways to the future. Click here to read it online or order a hard copy.
New in the resource center
Youth Scholarships 2019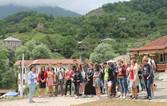 HOST_ ABCD.Innovation.Center from Armenia: an organisation empowering young people and developing their communities. You will be involved in their rural tourism social enterprise.