A global 2000 m² - field in Pankow.
Every bite has its place
Dossier(s) : Places to be (work in progress)
Type : Narrative story
Date de rédaction: August 7, 2019
Organisme(s) : Zukunftsstiftung Landwirtschaft (Foundation for future farming)
Texte :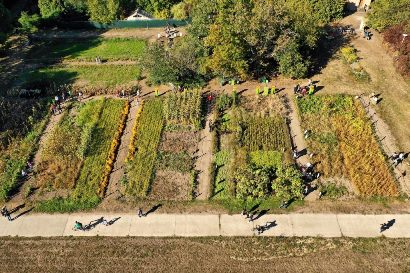 Humans cultivate 1,5 billion hectares of arable land globally. If we divided this equally between the global population of 7,5 billion, we would each receive a 2000 m² plot of land. This would have to satisfy all of our needs: cereals, fruits, vegetables, oil seeds, sugar, tobacco, coffee and tea, even the cotton in our jeans and the rubber for our tires, the fuel and power generated from fields and, of course, all the organic waste we produce.
If we are careful, 2000 m² is more than enough for one person. The Global Field is a representation of how much of this lot is currently used for these different purposes. It shows us how wasteful and unequal our current food system is. It maps out how much land is required for individual dishes, for spaghetti Bolognese for example. This can also be done on the app. "Every bite we eat has its own place where it was growing," Benny Haerlin, the initiator of the global field, explains its purpose. "Close your eyes next time you eat and imagine these places, this makes the whole difference!"
Where: Pankow near Berlin, Germany
Who: Foundation on Future Farming
Link: www.2000m2.eu and www.mym2.de
Informations :
Niveau d'intervention : National
Mots-clés : sustainable agriculture, organic farming, seeds saving, food production
Lieux : Germany
Acteurs : fundation
Méthodes : campaigning, raising awareness, ouvrage