Un champ global de 2000m2 à Pankow
Chaque bouchée compte
Dossier(s) : Lieux incontournables (travail en cours), Systèmes alimentaires locaux
Type : Récit d'expérience
Date de rédaction: 31 août 2021
Organisme(s) : Zukunftsstiftung Landwirtschaft (Foundation for future farming)
Texte :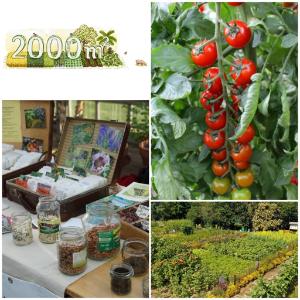 § A few words on Global Field Pankow
Global Field Pankow is situated in the "Botanischer Volkspark Blankenfelde-Pankow" near Berlin.
It is part of a global network based on the realization that if we were to divide the global surface of arable land by the number of people on the planet, we would each get 2000m² (half an acre).
This would have to satisfy all of our needs: cereals, fruits, vegetables, oil seeds, sugar, tobacco, coffee and tea, even the cotton in our jeans and the rubber for our tires, the fuel and power generated from fields and, of course, all the organic waste we produce.
For more than 3 years we have been growing the Global Field in Berlin. On 2000m² we are planting a representation of the global situation of arable land and of how much of this lot is currently used for these different purposes. It shows us how wasteful and unequal our current food system is.
♪ What kind of experience can you have there…
Visiting Global Field Pankow you can make rich experiences in the following fields of activities:
· Agriculture
· Permaculture
· Agroforestry/ Forestry
· Seed saving
· Training
· Events organisation
You can visit the place just as a visitor or participate in an event.
☼ Travel information & Location
The world field is located in the Pankow Botanical Park. Bus 107 stops at the entrance (the lines 124, 150, 250 and M1 cross the bus line 107). You can cycle 12 minutes from Blankenburg S-Bahn station and 15 minutes from Pankow or Schönholz S-Bahn station. You can find the fastest way from your location with Google-maps and the BVG timetable information.
☺ Contact
Informations :
Niveau d'intervention : National
Mots-clés : alimentation, agriculture biologique, sauvegarde des semences, production alimentaire, agriculture durable
Acteurs : fondation