3rd Forestry Workshop, Oct. 2018 (EE)
3rd Forestry Workshop - October 18-21 2018, Alutaguse Parish, EE
in co-operation with the Estonian Fund for Nature.
After the 1st workshop held in UK (March 2016) and the 2nd held in Serbia (November 2016) - in order to enlarge our understanding of different situations and realities in Europe - we visited the North Eastern part of Estonia.
Our local cooperation partner was the Estonian Fund for Nature.


The event was co-financed by the Estonian National Foundation of Civil Society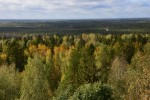 Visiting Alutaguse Parish - one of the most densely forested corners of Estonia - we will find a region rich in swamps, mires, and dry boreal forests and very few meadows. Pine and birch forests are most widespread. Top predators like bears, wolves and lynx are represented in the local fauna as well as the very rare flying squirrel.
The topics to tackle are related to:
forestry management,
nature conservation aspects (Extensive forests hosting rare species as flying squirrels and bears) and
local tourism and woodworking craftsmanship as local economic activities.
We work on the basis of and develop further the 4 main principles of Sustainable Forest Management.
A holistic respect for the health of woodlands and forests
A sense of stewardship of forests on behalf of humankind
A sense of communal responsibility
A global perspective
Documents related to the 3rd Workshop on Sustainable Forest Management
Read our Action Sheet for more information on Sustainable Forestry
Main Conclusion
The participants of the workshop concluded:
"We believe that the intrinsic natural value of the forests of Estonia are undervalued and the primary focus on timber production is short-sighted and misplaced.
It is our view that the Estonian people should be given a greater opportunity to be involved in the future of their iconic forests and be encouraged to undertake alternative and sustainable activities like health promotion, tourism, wildlife protection and climate change mitigation.
We encourage the Estonian Government to establish an National Forest Plan that incentives sustainable activities, protects vulnerable habitats and species and benefits all aspects of its natural ressource."
Presentations given during the Market of Initiatives
this information will also be included in our resource center