2nd Forestry Workshop Nov.2016 (SRB)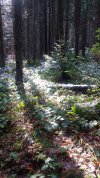 2nd Forestry Workshop- 10 - 13 november 2016 in Tara National Parc, Serbia. In cooperation with the Ibar Development Association.
Around 30 participants from 10 different, mainly Western Balkan countries met and exchanged about elements of sustainable forest management and drivers of unsustainable management.
We build upon the main findings of the 1st workshop, 17-20 March 2016, Milverton, Somerset, South-West of England, UK, namely the 4 principles of Sustainable Forest Management in order to reflect and develop further:
A holistic respect for the health of woodlands and forests as natural organisms and systems, which have a validity and even sanctity in their own right, regardless of human intervention
A sense of stewardship of forests on behalf of humankind now and in the future, rather than selfish or short-term exploitative use of forests
A sense of communal responsibility for, and pride in, the forests; and of fairness in the provision and allocation of forest-based benefits and resources
A global perspective, based on care for all the world's forests and on awareness of the fragility of global ecosystems and climate.
Experience
In our fieldtrips we experienced topics related to:
forest management in the National Parc including the handling of pest diseases (bark beetle) and fire hazards.
economic activities related to forestry
Discussion
the condition of forests in the Balkan region and the policies and actions needed to achieve sustainable forest management in that region
the development of small forests managed by private owners (with special attention on existed experience in ex-Yugoslavia, ex-socialist countries from East and Central Europe and EU countries),
sustainable forest management in protected areas and
sustainable development of mountain communities based on forestry and activities linked to forests.
to produce a report on the workshop proceedings, in a form which builds upon and complements the report on the first workshop, with recommendations for policy and action
Documents related to the 2nd Workshop on Sustainable Forest Management
Read our Action Sheet for more information on Sustainable Forestry
Presentations given during the Market of Initiatives
this information is also included in our resource center