Civic Dialogue workshop - April 2015 (Wales)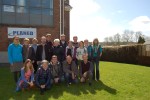 From 9 to 12 April 2015, we were welcome in Wales (Pembroskhire) by our partner PLANED who co-organised our 1st workshop entirely dedicated to Civic Dialogue.
Main goal was to deal with the topic of dialogue between different stakeholders. We wanted to focus on this kind of dialogue when it aims at either influencing policies having a strong impact on territories (e.g. agriculture, food, environment, social cohesion) or at contributing to the solution of local or regional issues of sustainable rural development.
The 1st day, visits and exchange with local actors and PLANED staff helped us understanding how the organisation works with and for local communities in order to support the local development, a clear example of Community-Led Local Development.
The 2nd day, the floor was given to participants to present some of their projects enhancing citizens participation and dialogue between stakeholders with a wide range of topics such as: management of Natura 2000, Rural parliaments, designing social mobilisation on local level, or fostering care services in municipalities for instance...
We finished with an intensive and enrich training by PLANED - that has a rich experience in facilitation of participative development processes especially on community level since more than 20 years. The facilitators shared the methods they usually use to accompagny local communities to design their action plan.
Documents related to this event
Report of the event
Presentations of the Market of Initiatives: