3rd Forestry Workshop, Oct. 2018 (EE)
3rd Forestry Workshop - October 18-21 2018, Alutaguse Parish, EE
in co-operation with the Estonian Fund for Nature.
REGISTRATION CLOSED
After the 1st workshop held in UK (March 2016) and the 2nd held in Serbia (November 2016) - in order to enlarge our understanding of different situations and realities in Europe - we will visit the North Eastern part of Estonia.
Our local cooperation partner will be the Estonian Fund for Nature.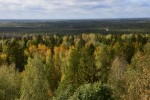 Visiting Alutaguse Parish - one of the most densely forested corners of Estonia - we will find a region rich in swamps, mires, and dry boreal forests and very few meadows. Pine and birch forests are most widespread. Top predators like bears, wolves and lynx are represented in the local fauna as well as the very rare flying squirrel.
The topics we intend to tackle are related to:
forestry management,
nature conservation aspects (Extensive forests hosting rare species as flying squirrels and bears) and
local tourism and woodworking craftsmanship as local economic activities.
We will work on the basis of and develop further the 4 main principles of Sustainable Forest Management.
A holistic respect for the health of woodlands and forests
A sense of stewardship of forests on behalf of humankind
A sense of communal responsibility
A global perspective
Documents related to the 3rd Workshop on Sustainable Forest Management
Read our Action Sheet for more information on Sustainable Forestry